Coronavirus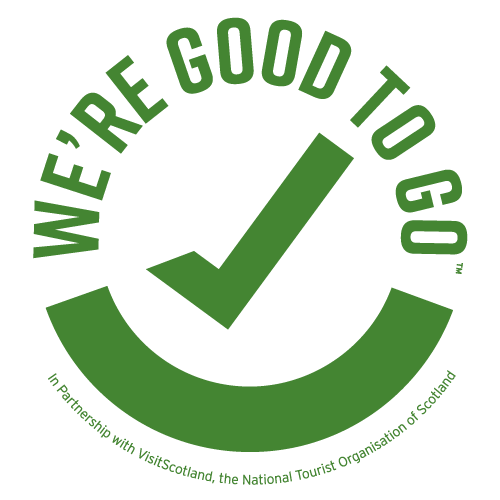 While Covid-19 remains a concern and in order to protect our guests and ourselves, we are taking a number of precautionary measures to reflect the current advice from Government and tourism industry bodies about limiting the spread of the virus.
We have been awarded the 'Good to Go' Industry Standard mark confirming that we have followed government and industry COVID-19 guidelines, have carried out a risk assessment and put in place a process to maintain cleanliness. 
In addition to our normal rigorous cleaning between bookings, we will:
Keep a minimum gap of 24 hours between new bookings.
Clean intensively after every booking. Tigh a' Mhaide is always spotlessly clean when guests arrive, but our usual cleaning routine will now become even more intensive. In particular, after every booking we will:
Wash all towels, bed linen and protectors at the highest possible temperature and use laundry disinfectant where appropriate.
Disinfect all surfaces and appliances.
Rotate and/or disinfect bedding and soft furnishings. Rotating means bedding and soft furnishings will be replaced at the start of each booking with clean items which have been unused for at least 72 hours.
Put all crockery, cutlery, pots and pans through an intensive dishwasher programme.
Disinfect keys.
Follow all relevant advice issued by Health Protection Scotland/Public Health Scotland
We have installed a key lockbox so that guests can check themselves in and out without face-to-face interaction with us (though we will still greet you from a distance and be available if you need help). 
We will also temporarily reduce the number of indoor games, DVDs, books etc so that what is provided can be disinfected between bookings. Outdoor games (croquet, putting/mini-golf and table tennis) will remain available, as will the children's playhouse.
In addition to these measures, we ask all our guests to follow the latest government advice about travel, hand washing and social interactions in order to protect themselves and others. The latest guidance is online here. And those taking advantage of our glorious scenery for walking (or cycling), should also heed this advice from The Rambers and Mountaineering Scotland about doing so safely.